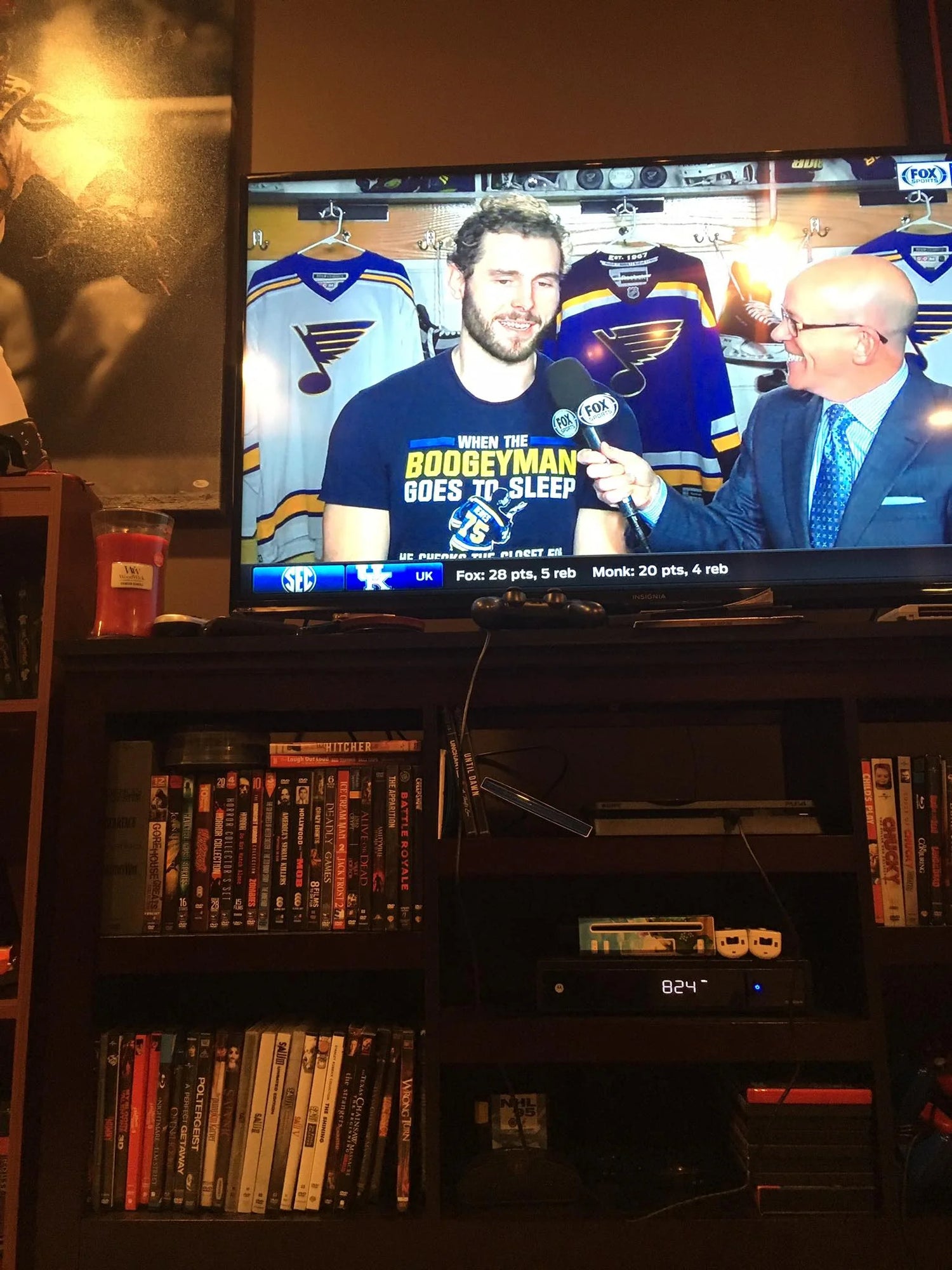 HOW IT STARTED
IT ALL STARTED IN 2016 WITH $10,000 AND A VERY SMALL LOCATION IN SAINT CHARLES, MO. RYAN AND REBECCA SOUGHT OUT TO CREATE A FAMILY FOCUSED SPORTS STORE WHERE ANY FAN COULD COME AND GRAB SOMETHING FOR THEIR FAN CAVE INCLUDING EXCLUSIVE CUSTOM TEES.

THE BEGINNING HAD A LOT OF HURDLES AND WE HAD TO SCRATCH AND CLAW TO GET THROUGH THE FIRST YEAR. MANY PEOPLE MAY NOT KNOW THIS - BUT VERY EARLY ON WE HAD AN AUTOGRAPH SIGNING THAT WAS SO POORLY ATTENDED IT NEARLY COST US OUR BUSINESS. IT TAUGHT US A LOT ABOUT GRINDING AND WORKING HARD AS WE HAD A LOT OF MONEY TO OVERCOME. WE DID IT AND WE ALWAYS LOOK BACK AT THAT KNOWING WE CAN GET THROUGH ANYTHING!

WE STARTED PLAYING AROUND WITH EXCLUSIVE CUSTOM TEES AND HAD SOME HITS AND SOME DUDS - BUT OVERALL IT GAVE US A LOT OF INSIGHT IN THE APPAREL PORTION OF OUR BUSINESS.

THINGS GOT INTERESTING IN 2017 WHEN JOEL EDMUNDSON WORE THE FAN CAVE EXCLUSIVE RYAN REAVES "BOOGEY MAN" T-SHIRT ON A BLUES BROADCAST. FUNNY STORY - RYAN WAS SLEEPING ON THE COUCH WHEN ALL OF A SUDDEN HIS PHONE WAS GOING NUTS - BUZZING WITH ORDER EMAILS. REBECCA QUICKLY WOKE HIM UP TO ASK WHAT WAS GOING ON. THAT NIGHT WE SOLD WELL OVER 300+ T-SHIRTS! IT WAS INSANE AND PUT US ON THE MAP. JOEL WAS SO GRACIOUS - HE WORE THE SAME SHIRT AGAIN AND, NEEDLESS TO SAY, I WILL NEVER FOGET THOSE TWO NIGHTS OR THE DAYS AFTER AS IT MEANT SO MUCH TO OUR BUSINESS.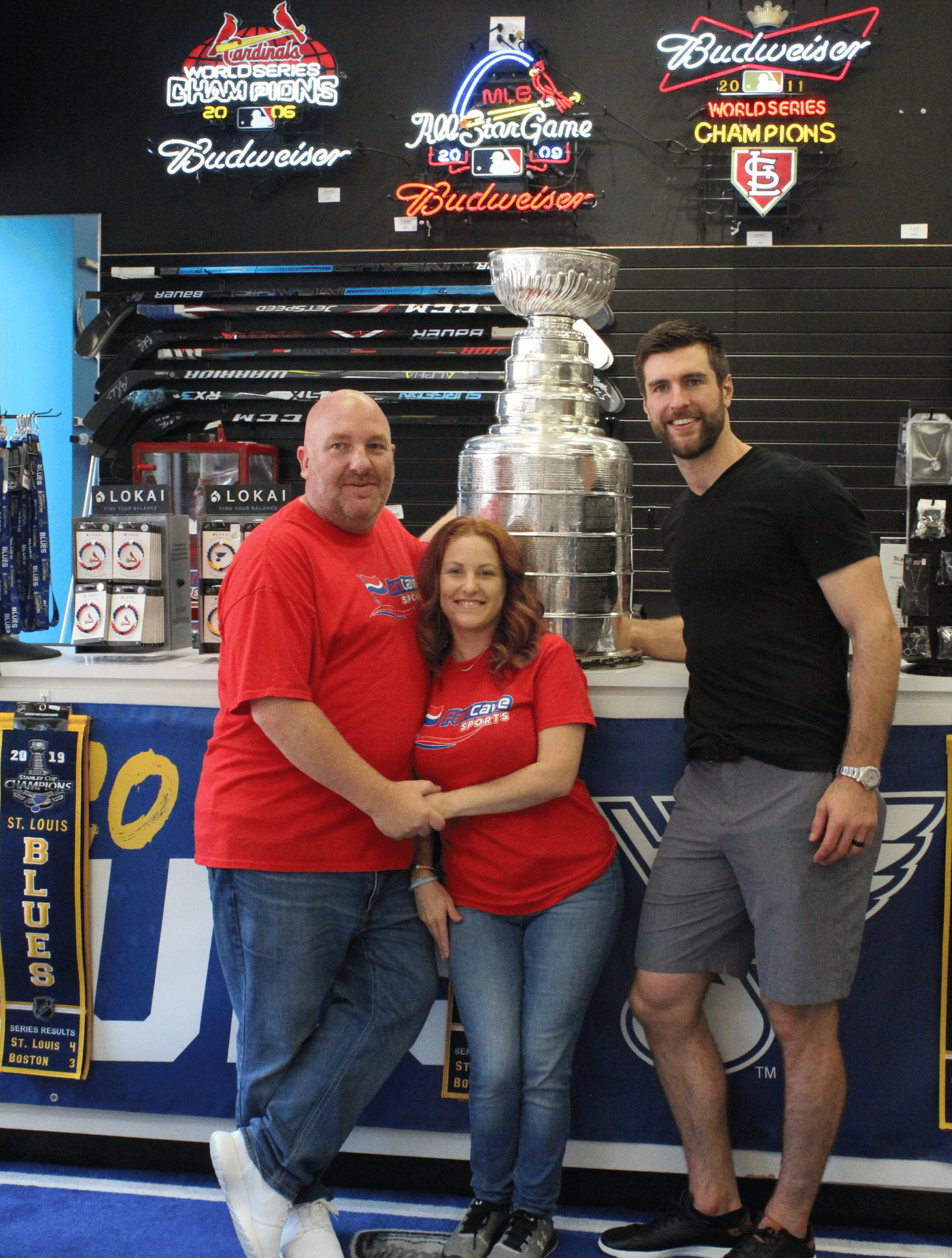 ALEX PIETRANGELO BRINGS LORD STANLEY TO FAN CAVE!
THIS IS ALSO WHEN OUR LOVE & PASSION FOR THE ST LOUIS BLUES WAS FUELED. WE QUICKLY DECIDED TO FOCUS OUR BUSINESS ON THE BLUES AND KEPT ADDING PLAYERS TO A STABLE OF EXCLUSIVE ATHLETES.

MAYBE THE BIGGEST ONE IN OUR COMPANIES HISTORY - RYAN O'REILLY SIGNS WITH FAN CAVE AFTER BEING TRADED BY BUFFALO TO ST LOUIS. WE'VE HAD THE FORTUNATE OPPORTUNITY TO WORK WITH RYAN EVER SINCE!

2019 WAS AN AMAZING YEAR FOR EVERYONE INVOLED. IT DIDN'T START OFF THAT WELL AND A LOT OF PEOPLE AROUND US WERE QUESTIONING THE FACT WE HAD 16 ST LOUIS BLUES PLAYERS UNDER EXCLUSIVE MEMORABILIA DEALS. FAST FORWARD TO JUNE 12TH, 2019 - THE ST LOUIS BLUES WON THEIR FIRST EVER STANLEY CUP AND SHIT GOT CRAZY!

CAPPING OFF ALL THE FESTIVITIES WAS ALEX PIETRANGELO BRINGING LORD STANLEY TO OUR CHESTERFIELD LOCATION TO SHARE WITH FANS. A TRUE ONE-OF-ONE EXPERIENCE.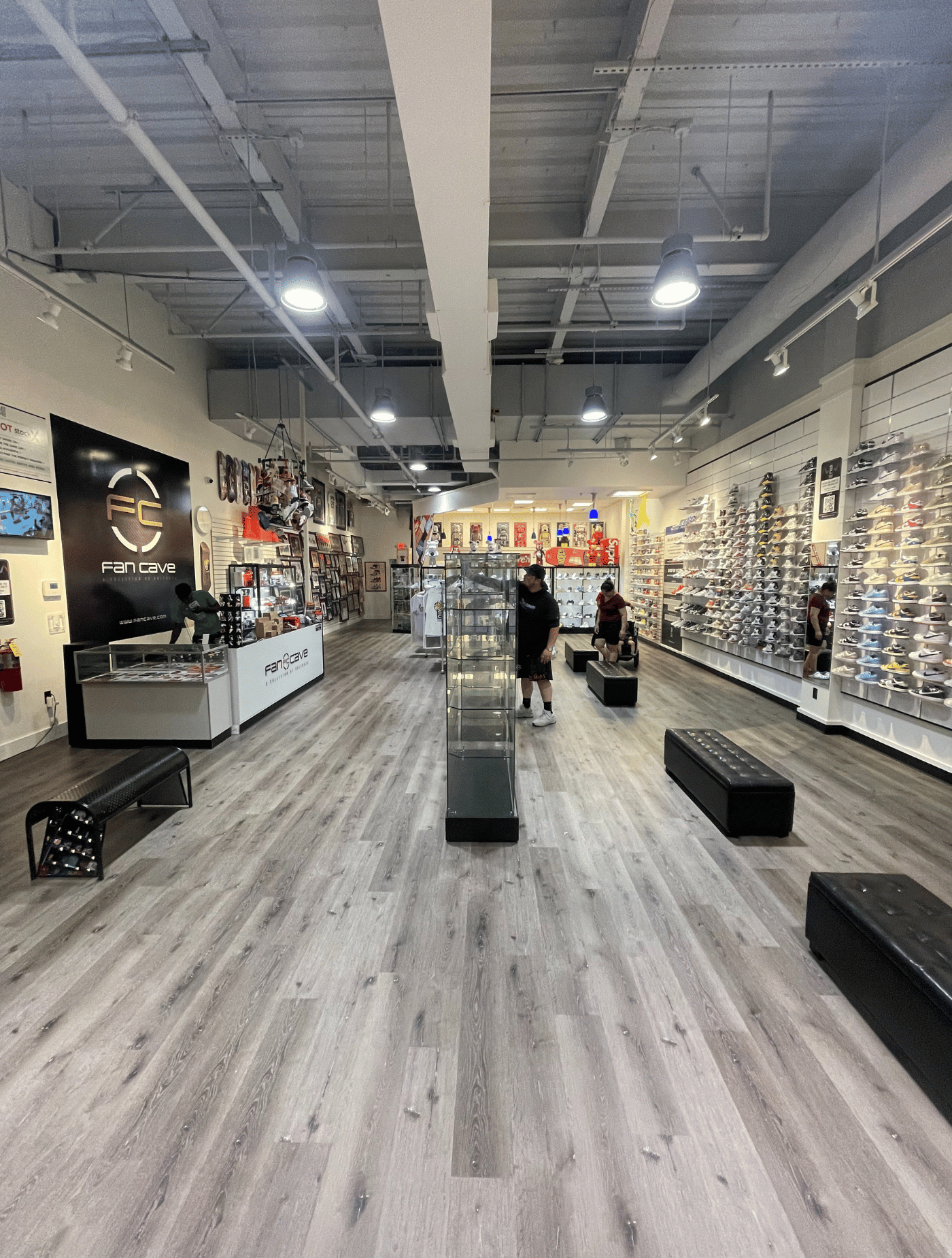 CULTURE
WHILE BUILDING THE AMAZING FAN CAVE BRAND, WE HAD THIS WILD IDEA OF OPENING A SNEAKER STORE (WELL RYAN DID AND IT TOOK A LOT OF CONVINCING). SNEAKERS HAVE ALWAYS BEEN SOMETHING RYAN ENJOYED. WHILE ON A TRIP TO DO A SIGNING IN WASHINGTON D.C. WITH OUR EXCLUSIVE NICKLAUS BACKSTROM - WE STOPPED AT EVERY SNEAKER STORE BETWEEN ST LOUIS AND THE EAST COAST. THIS IS WHERE THE IDEA PICKED UP STEAM. WE KNEW WE COULD DO IT - NOW WE JUST HAD TO CONVINCE REBECCA. AFTER A LOT OF DISCUSSION - SOLE CAVE WAS BORN AND QUICKLY GREW TO THREE STORES IN UNDER 12 MONTHS. THE SNEAKER STORES QUICKLY BECAME AN OVERWHELMING BUSINESS WITH LOTS OF GROWTH IN A VERY SHORT PERIOD OF TIME.

WHICH BRINGS US TO TODAY - JULY 13, 2023. WE MADE THE DECISION TO MERGE OUR BUSINESSES AND CREATE ONE COMPLETELY UNIQUE - COMPLETELY DIFFERENT!

FAN CAVE WILL NOW HAVE SNEAKERS, HATS, SPORTS MEMORABILIA, APPAREL AND ACCESSORIES UNDER ONE ROOF. WE ARE SO PUMPED ABOUT OUR NEXT CHAPTER AND CAN'T WAIT TO SHOW YOU GUYS OUR NEW VISION.

BUCKLE UP - ENJOY THIS RIDE - IT'S GOING TO BE A LOT OF FUN!

WE LOVE YOU GUYS - YOU MEAN THE WORLD TO US - LET'S HAVE SOME FUN!

RYAN & REBECCA HOUSTON
SHELBY, JOEY, CODY, COURTNEY, RANDY & ISAIAH